News Details
API 598 Valve Inspection and Testing Valve Test Bench Design
Author: Ben Date: 2014-7-23 20:19:57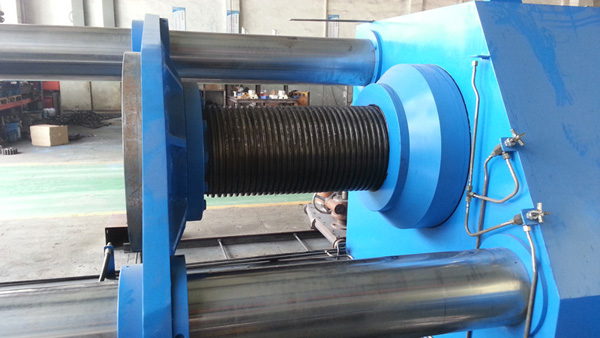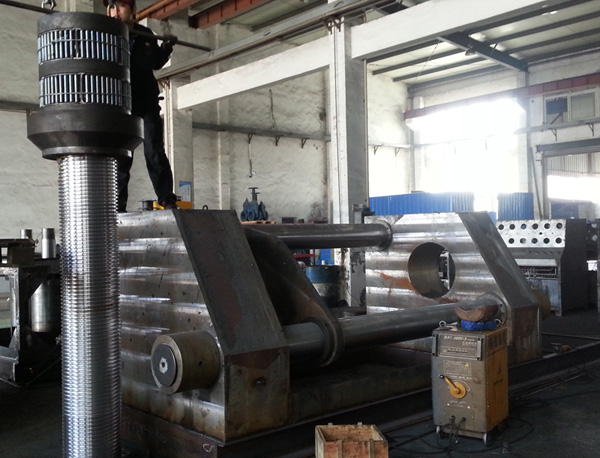 YFB-DL model Top Screw Valve Test Bench, adopts screw top pressure, valve tunnel seal type to test valve.
The test bench is made up of left & right frame, middle frame, pulling rod, top pressure screw nut pair & drive system, bracket system, pipeline system, hydraulic system, electric system.
We have taken the following measures in such areas as heavy duty machinery, valve test, automatic control and operation of facilities:
General program design:
1) Adopt screw top pressure(valve tunnel inner-extending seal)model, Large screw nut pairs rotation in horizontal condition will lead to sharp increase in friction torque transmission of screw nut pairs because of too large screw weight. Our company adopt a special structure for large screw nut pairs rotation structure to solve the problem very well.
2) Left & right frame and middle frame adopt steel plate welded, left & right frame are connected together by 2 or 4 pulling rods and nuts.
3) Top screw nut pairs are set on the right, nut is equipped in nut hole of right frame with roller, nut rotation for the roll rotation, top screw is supported by middle frame and special designed support system, can effectively solve the problem of sharp increase in friction torque transmission of screw nut pairs because of too large screw weight.
4) V-shaped brackets which support test valve is in manual worm + rod nut structure and V-shaped bracket car structure which can move on the rail to adapt to face-to-face dimension of test valve.
5) We equip fully closed structure roller bearings, the car equipped V-shaped support block, the height and distance between V-shaped blocks of two cars can be adjustable.
6) The movement of top pressure device from motor through clutch, reducer and gears is transferred to vice-top screw nut body. The movement of vice-top screw nut body has the function of fast forward, slow forward and rewind(The system has declared national patent, patent apply No.: 200920073506.X).
7) When top screw forward, first top pressure device slow forward and fast forward after a few seconds, top screw system stop automatically near the end position. In order to make large model valve counterpoint with blind plate conveniently,top screw set slow forward(the movement of slow forward,you can select"joggle"or"continuous actions"), when blind plate counterpoint with valve, slow forward is set"continuous actions", at the movement top screw slow forward, when blind plate press valve according to pre-top pressing power, top screw system stop automatically.
8) Top screw control pre-top pressing power to valve by setting magnetizing current of magnetic clutch and very convenient and reliable operation. The system makes test valve and vice-top screw body nut not to be damaged due to overload(the system has declared national patent, patent apply No.: 200920073505.5).
9) The backward of top pressure device is slow. Forward and backward position of the terminal limit set limit protection. Because forward and backward have set fast movement, it can improve work efficiency.
10) When testing, you can adopt inner tunnel blind flange seal or bootstrap tank plane seal(inner tunnel blind flange and bootstrap tank provided by the customer)
11) The water pressure system is made up of large flow LP water pump, small flow HP water pump, pipeline and control valve. When testing valve, start large flow LP water pump to fill test media in the body of valve, after LP test media is filled, LP water pump stop automatically, Germany MAXIMATOR HP air drive pump starts automatically and fill high-pressure water in the body of valve, the pressure of test media arrives at set pressure value, air drive pump stop automatically and enter pressure-keeping timing status (pressure-keeping time can be set by operator).
12) The equipment equipped pressure-keeping & sound, light alarm system, when timer is over, the alarm starts working. (the system has declared national patent, patent apply No.:200920073503.6)
High, low water and air system connect with blind flange channel at both ends of valve, can fill pressure media from both ends and relief pressure. HP water pressure system set liable pressure-keeping device, got HP water pressure by HP air drive pump, can keep pressure for a long time.
Products Catagories
Contact Information
Shanghai Zengxin Machine Electron Technology Co.,Ltd
Add: No.165 Hengfei Road, Jiading District, Shanghai China
Tel.: 0086-137 0588 0773
Fax: 0086-21-59586599
Email: info@valvestest.com
Skype: benqpan
Web: http://www.valvestest.com