Products Catagories
Contact Information
Shanghai Zengxin Machine Electron Technology Co.,Ltd
Add: No.165 Hengfei Road, Jiading District, Shanghai China
Tel.: 0086-137 0588 0773
Fax: 0086-21-59586599
Email: info@valvestest.com
Skype: benqpan
Web: http://www.valvestest.com



Products
Control Valve Test Bench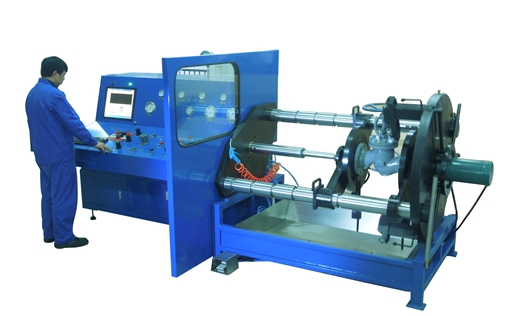 1. Brief Introduction of TC-16
The TC-16 Pipeline Valve Test Bench is designed to meet API 6D pipeline valve pressure test standards.
The Bench is built with a horizontal frame designed with flange clamping system fitted on.
It allows proportional control clamping on the valve to protect the housing against deformation.
The main components (pumps) are products of the U.S. and the high pressure valves are from Switzerland.
Other components are also products from first-class brands.
With ten years of experience in designing and manufacturing valve test bench, Telide commits to provide you quality components, advanced technology, superior service and competitive price.
The clamping equipment, which includes one clamping units (DN1/2"-16"
), is used to test with water and compressed air.
It uses the heavy duty constructed automatic clamping system with a double acting hydraulic cylinder that operated by a control panel. It controls clamping pressure to be increased in proportion to protect the housing against deformation. Another independent clamping system-Claws. The synchronization of three claws can clamp independently one-way valve.
3.1 Equipped with the software independently developed by Shenzhen Telide High-pressure Fluid Co., Ltd.;
Controlled by high stable industrial intelligent controller, providing solid backup for running the software
3.2 Can realize the monitoring of system data, the control of testing process, the display of pressure tendency chart and the generation of report
3.3 Record the data automatically by computer; can print out test report and curve directly; zoom in/out the selected area to capture the characteristic values precisely; test results generated in Excel file, easy for future use; changeable range test with high precision.